Well, it's that time of year again, when after a winter of indoor swimming and you stink of chlorine, some of you may actually be thinking of tackling, dare I say it, an open-water race.
In previous spring publications I have discussed some of the differences between pool and open-water competition. Rather than repeating myself [you can check a back issue for that info], I thought I would focus on a single event that is within the scope of any moderately skilled swimmer, while also offering a real challenge for the more seasoned athlete.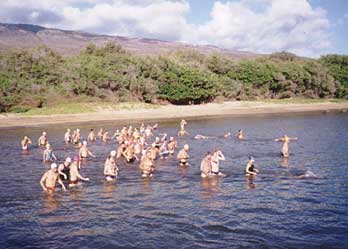 There is an aquatic event that has been taking place for twenty plus years over the Labour Day weekend and attracts people from all around the globe. Swimmers from Australia, Great Britain, Japan, the US and Europe come together on one of the most beautiful islands on the planet to strut their stuff.
The place is Maui and the race is across the Maui Channel, from the island of Lanai to Ka'anapali beach [on the west coast of Maui]. The distance is approximately ten miles in eighty degree waters, with an air temperature about the same.
What makes this event so cool though is that you can do it as a solo event [you must qualify as there is a limited field], or, as a six- person relay team. The vast majority of the four hundred plus swimmers are there as relay participants and get to rub shoulders with current and ex Olympians [e.g. Amanda Beard competed on a team in 2003], while enjoying a weekend of fun, sun and yes, a good amount of partying after the event.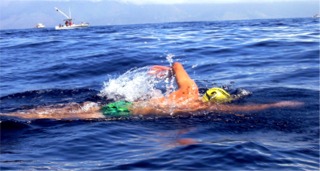 Most swimmers rent a boat and crew locally and the race director can usually team you up with someone if given sufficient notice. You will also have to arrange airfare and accommodations and I would strongly suggest you take advantage of the special rates offered to competitors at The Ka'anapali Beach Hotel, which is literally the finish line of the event.
Maui is of course a very popular destination point for Canadians seeking a break from our sometimes cold and miserable winters. If you decide to compete in this event though, you will get a different sense of the island and its people. Everyone is treated very warmly and you leave [at least we do] feeling a sentiment of having been part of a very different experience.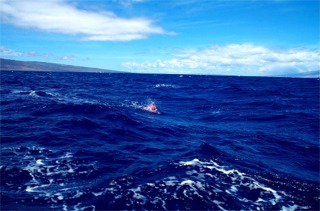 There are some things to be aware of if you decide to participate.
In the solo event you should be able to swim ten miles in around four hours in good conditions, which means that this is only a race for strong and experienced ocean swimmers. Also, whether doing the solo or relay, make sure you bring plenty of sunscreen. The weather can be merciless to an exposed, pink skinned Canadian and you may suffer significant burns [trust me, I've been there!].
My wife Debbie and I have done two solo races [2000 and 2003] and one thing we learned is that Mother Nature can throw some significant curves, so you want to make sure you are fully aware of tide and current conditions on the day of the race [i.e. don't rely on your captain to have all the answers].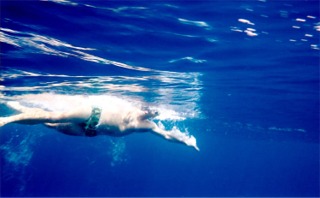 There are a myriad of sea creatures out there, some potentially more dangerous than others. Getting stung by jellyfish is very common but no big deal. Just take a couple of anti-histamine tablets before you start out and the pain will be minimal. Please remember that this is a sanctioned swimming race, so no wet suits are permitted as body armor. I would also strongly discourage the use of any grease, as hyperthermia would then become an issue. Fast suits are allowed.
Sharks are not uncommon sightings in these waters [it is after all their home, not ours], and while two rather large Tiger Sharks were seen lurking around swimmers in last years' race, there have been no attacks in the history of this exciting event [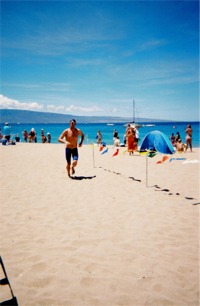 go onÉ.live a little on the wild side!].
In closing, while this is not a race for the pool-only conditioned athlete, it does offer a unique and satisfying way for you to ply your trade as a swimmer.
And if you need a little emotional push, just remember a quote from a poem written by The Swahili Warriors of East Africa that was penned about two thousand years ago.
It reads: "Life has meaning only in the struggleÉvictory and defeat are in the hands of the GodsÉ.so, let us celebrate the struggle!".
Some things never change.
About the author: Shane Collins is a sport and fitness consultant and a marathon swimmer. He has competed in long distance ocean swimming races around the world and is the only athlete from BC to have successfully swum across The English Channel in its 128 year history. He can be reached at roughwater@telus.net.